Morning Session Record: https://media.un.org/en/asset/k1p/k1psl7fmj7
Afternoon Session Record: https://media.un.org/en/asset/k1m/k1me8conei
The first STI in Africa Day will be held at the margins of the STI Forum in New York, with a focus on STI4SDGs: Priority Areas, Levers and Actionable Steps for Africa. The STI in Africa Day has two main purposes: (a) To serve as a vehicle for connecting the global community to cooperate, network, showcase, share experiences, build strategic alliances, and, wherever possible, set in motion concrete actions that advance Africa's STI4SDGs priorities; and (b) to bring the outcomes of the African Regional Science, Technology and Innovation Forum to the global STI Forum and vice versa, with a view to guiding facilitative actions on both ends.
The theme of the STI in Africa Day is aligned with that of the African Regional STI Forum 2023 which is "accelerating development and diffusion of emerging technologies for a green, inclusive and resilient Africa" and which will be held in Niamey, Niger, from 26-27 February 2023. The African Regional STI Forum has grown into the pre-eminent continental platform for the exploration of priority issues of science and technology, showcasing emerging developments relevant to African STI4SDGs, building and enhancing technical and entrepreneurial culture among young people, and forging long-lasting partnerships and alliances that are sustainable and potentially self-sustaining in the long run. Since 2019, the continental STI showcase has attracted over 3,000 delegates representing African countries, United Nations agencies, the academia, industry, civil society, youths, and marginalized groups, among others.
The co-organisers of STI in Africa Day at the STI Forum are DESA and ECA, with the support of FAO, MIT, UNESCO, and Office of the Special Adviser on Africa (OSAA)/IDTFAA.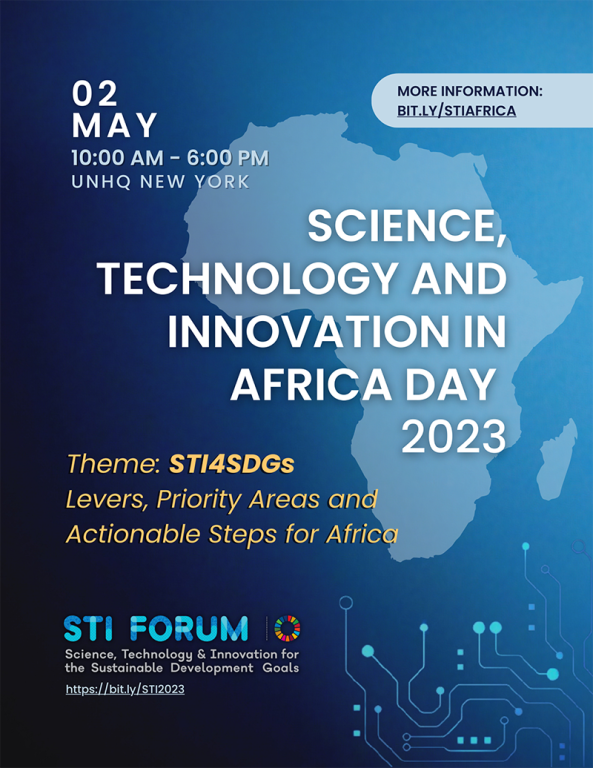 QR code:
---