News
The Higher Education Sustainability Initiative discusses the transformation of higher education as a result of the COVID-19 pandemic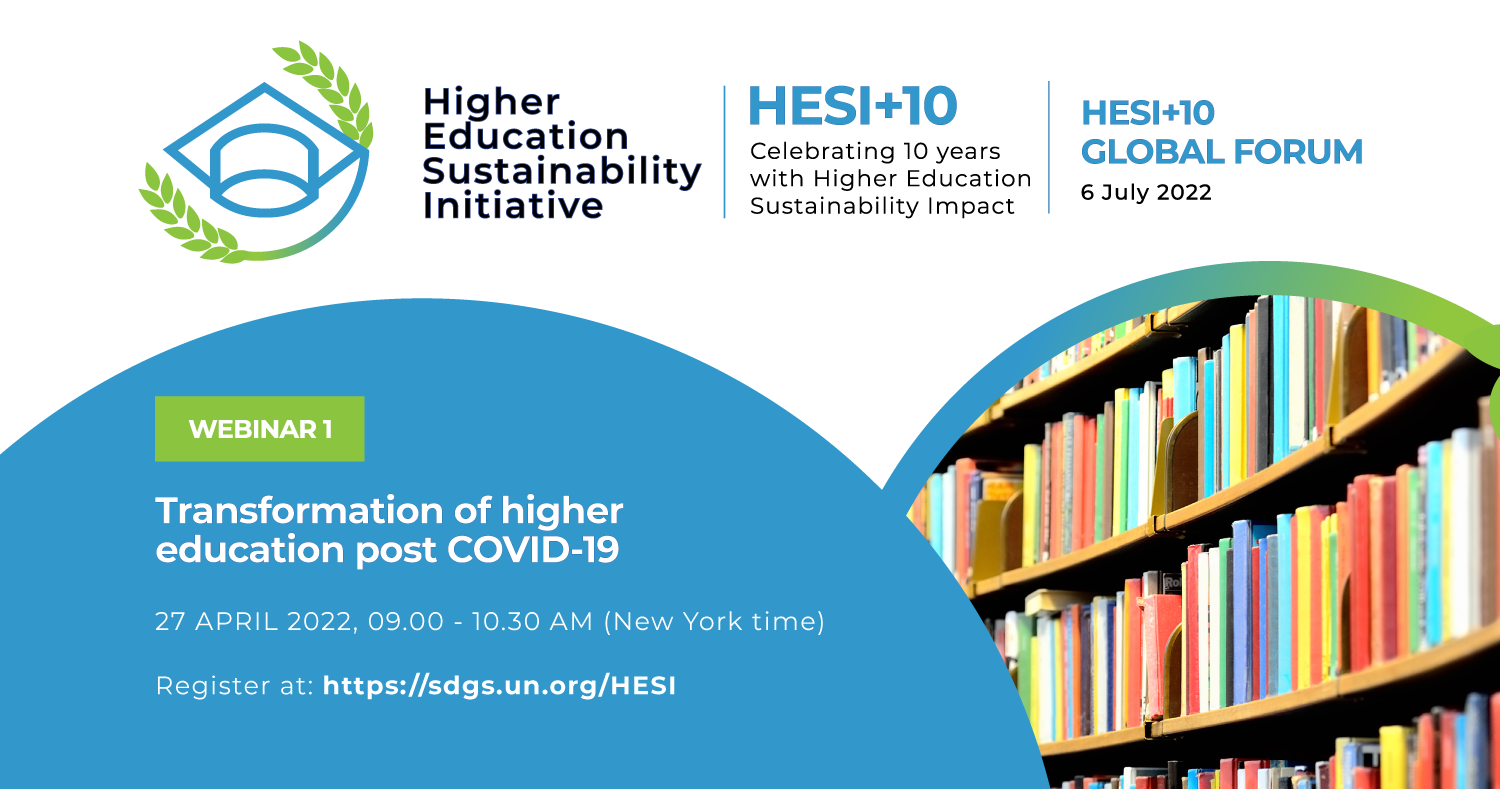 New York, 27 April 2022— The Higher Education Sustainability Initiative (HESI) hosted the first of a series of three webinars organized in the lead-up to the HESI+10 Global Forum which will highlight the role of higher education in building back better from COVID-19 and advancing the 2030 Agenda for Sustainable Development. The HESI+10 Global Forum, will take place on 6 July 2022 as a special event to the High-level Political Forum on Sustainable Development and will spotlight HESI's 10th Anniversary since its launch at the 2012 UN Conference on Sustainable Development (or Rio+20 Conference).
In an insightful webinar entitled "Transformation of higher education post COVID-19", HESI brought together a group of higher education experts to explore how the pandemic has transformed higher education's approaches to teaching and learning. The event brought featured 60 participants, and was opened by Lotta Tähtinen, Chief of the Outreach and Partnerships Branch, Division for Sustainable Development Goals of UN DESA. Ms. Tähtinen acknowledged that "the disruptions that the COVID-19 pandemic has caused to societies, including in the education sector, are unprecedented" and thanked partners and faculty for "driving current and future generations… to advance sustainable development and the SDGs".
Ms. Florencia Librizzi, Senior Advisor, Sulitest and Co-Chair of HESI, then led a feedback exercise with the audience that captured some of the key challenges and opportunities posed by the pandemic, such as the difficulty to nurture a sense of community and belonging, and the benefits of work-life balance resulting of remote practices. 
The event featured a distinguished panel moderated by Dr. Geraldine Fraser-Moleketi, Chancellor, Nelson Mandela University.
The first panelist, Dr. Weena Gera, University of the Philippines Cebu, analyzed ways in which the pandemic has catalyzed significant innovations that were long due. In the Philippines, she observed a rapid transition from traditional to more "agile" and adaptive modes of teaching and learning, including maximizing the use of existing digital learning management systems. According to Dr. Gera, "the pandemic forced us outside of our comfort zone… to face and act on a rather underdeveloped innovation ecosystem" to address prevailing issues of inequality and quality education".
Dr. Romeela Mohee, Commissioner of the Higher Education Commission, addressed teaching and learning, as well as regulatory issues in Mauritius. Most notably, she referred to the "emergency remote learning" (as opposed to online or hybrid learning) that resulted from several lockdowns. Notwithstanding that faculty has learned how to teach online, challenges related to assessments, field work, practical and lab work remain. The higher education regulatory framework was also deeply affected requiring more flexible and adaptive approaches to address the new reality.
Dr. Paul J. LeBlanc, President, Southern New Hampshire University, discussed important "human centric" questions, including the increase of mental health challenges in the student population. He also pointed out inequity in the context of over a million students dropping out of the higher education system in the USA. "Mental health impacts were huge and disproportionately affected low-income students and students of color" Dr. LeBlanc analyzed. Referring to the "great resignation" he noted a demand for affordable micro-credentials and certifications "laser-focused on skills and tight to high-paying jobs".
Dr. Susan Rundell Singer, Vice President for Academic Affairs, Provost, and Professor of Biology, Rollins College, highlighted that higher education had showed that it "can move nimbly and quicker than we ever imagined." She stressed the importance of not missing out on the opportunity to create a brighter future for all, leaving none behind. For this, she pointed to a robust body of knowledge on social-emotional learning and its connection with mental health and inclusion efforts.
Dr. Estrada Merino Alfredo, Universidad de Lima, outlined several aspects of education that need rethinking, such as processes, learning environments and educational agents. "For a teaching and learning process to be successful, it must be dynamic, cooperative and ethical" he stressed and considered the role of faculty as "manager[s] of a new way to facilitate and build and rebuild knowledge with the student" and to empower them through global citizenship and responsibility.
Following the panel discussion, Ms. Won Jun Byun, Programme Specialist, UNESCO, provided an update on the processes related to the Transforming Education Summit, to be convened by the UN Secretary-General in September 2022 in New York, which aim to mobilize political will and commitment to education for sustainable development.
Mr. Ola Goransson, from the Division for Sustainable Development Goals of UN DESA and Co-Chair of HESI, closed the webinar by sharing the next steps for HESI+10, which include upcoming webinars "Integrating Sustainable Development Goals into higher education" on 1 June and "Inspirational higher education initiatives for SDG 4, 5, 14, 15 and 17" on 21 June, followed by the HESI+10 Global Forum on 6 July 2022.
The Higher Education Sustainability Initiative is an open partnership between several United Nations entities and the higher education community launched in the run up to the United Nations Conference on Sustainable Development (Rio+20 in 2012).
HESI is currently chaired by the United Nations Department of Economic and Social Affairs (UN DESA) and SULITEST. Other UN partners include UNESCO, UN Environment Programme, UN Global Compact's Principles for Responsible Management Education initiative, UN University, UN-HABITAT, UNCTAD, UNITAR and UN Office for Partnerships.
For more information about HESI and how to join, please visit https://sdgs.un.org/HESI