United Nations 2024 ECOSOC Partnership Forum - Global Online Stakeholder Consultation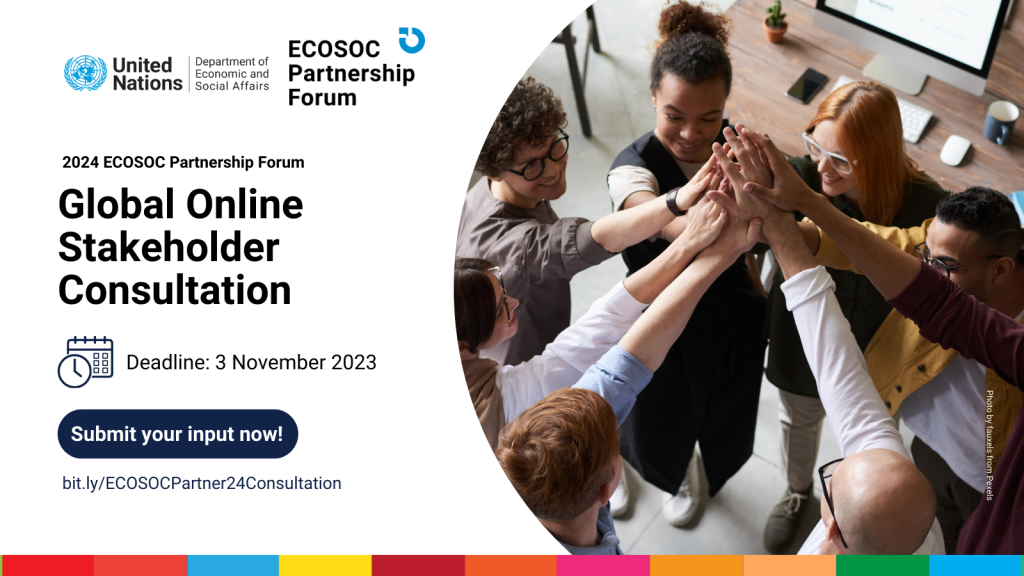 The 2024 Partnership Forum of the Economic and Social Council (ECOSOC) will be held on 30 January 2024 at the UN Headquarters in New York under the theme "Reinforcing the 2030 Agenda and eradicating poverty in times of multiple crises: the effective delivery of sustainable, resilient and innovative solutions".  The Forum will place a special emphasis on the Sustainable Development Goals under in-depth review at 2024 high-level political forum on sustainable development (HLPF), namely SDG 1 (no poverty); SDG 2 (zero hunger); SDG 13 (climate action), SDG 16 (peace and justice); and SDG 17 (partnership for the Goals).
The Partnership Forum will showcase and discuss forward-looking actions and partnerships by countries and all relevant stakeholders that can advance the 2030 Agenda for Sustainable Development and address new challenges.
A global online stakeholder consultation is being organized to solicit written views, experiences and proposals from all relevant stakeholders to inform the preparations for the 2024 ECOSOC Partnership Forum. A summary report will be prepared by UNDESA and be made available online ahead of the event. 
Non-governmental organizations, civil society organizations, parliamentarians, local governments, the private sector, scientists, academia, women, youth and other interested stakeholders are welcomed to submit inputs through the form below:
The consultation is now closed. A summary will be prepared by UN DESA and made public ahead of the Partnership Forum. 
To review all public responses: https://bit.ly/ECOSOCPartner24Responses  
(Disclaimer: The United Nations does not represent or endorse the accuracy or reliability of any advice, opinion, statement or other information provided through this e-consultation. Our office reserves the right to delete any content/input that is not aligned with the United Nations Charter and/or the principles and purposes of the 2024 ECOSOC Partnership Forum.)
To learn more about the 2024 ECOSOC Partnership Forum: 2024 ECOSOC Partnership Forum | Department of Economic and Social Affairs (un.org)