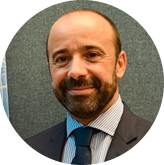 Mr. Miguel de Serpa Soares
Under-Secretary-General for Legal Affairs, United Nations Legal Counsel
Mr. Miguel de Serpa Soares, Under-Secretary-General for Legal Affairs, United

Miguel de Serpa Soares was appointed the Under-Secretary-General for Legal Affairs and United Nations Legal Counsel in September 2013. He oversees the Office of Legal Affairs, the overall objectives of which are to provide a unified central legal service for the United Nations. The Office of Legal Affairs employs approximately 200 staff of more than 60 nationalities.

Mr. Serpa Soares has extensive experience of legal and international affairs, having represented his country in various bilateral and multilateral international forums, including the Sixth Committee of the United Nations General Assembly, the Committee of Public International Law Advisers of the Council of Europe and the International Criminal Court's Assembly of State Parties.

Before taking up his current position, Mr. Serpa Soares was Director General of the Department of Legal Affairs of the Ministry of Foreign Affairs of Portugal from 2008. Earlier in his career, he acted as Legal Adviser to the Permanent Representation of Portugal to the European Union, Brussels (1999-2008) and as Chef-de-Cabinet of the Deputy Minister for Infrastructure and Territorial Administration, in charge of Maritime Affairs. He has been President of the Supervisory Board of the Lisbon Port Authority. He has been involved in several legislative and policy reforms concerning the maritime sector.